About Us
A member of the SPC Electronics Group.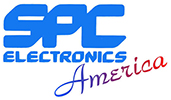 SPC Electronics America, Inc.
Located in Atlanta, Georgia, SPC Electronics America is a proud member of the SPC Electronics Group headquartered in Tokyo, Japan. SPC America provides sales, service and support for North American customers of the SPC Group. The wide variety of SPC products makes use of the electromagnetic wave to accomplish the specified product function. From voice and data transmission, cellular communications, satellite communications and waveguide products to induction heating and various other products SPC continues to explore and develop the limitless potential of the electromagnetic wave.
The information provided on the Products Page is a reference for equipment the SPC Group produces. Specific performance specifications should be provided in order to fulfill your overall system requirements. SPC America provides a total interface for you and your product with SPC Japan resources. Key resource examples include engineering, parts procurement, production, test, and transportation. SPC VSAT products include BUC (Block Up Converter), low noise devices such as LNB (Low Noise Block Down Converter) and LNA (Low Noise Amplifier), ODU (Outdoor Unit), and Transceivers. Depending upon the product these operate in the C, Ku, Ka, and X-Band frequency ranges.
For more detailed information please send us an email to sales@spcamerica.com.
SPC Electronics America has the resources to repair any microwave and RF (VSAT) device presently on the market, regardless of the manufacturer. More details are on the Service information page or contact us directly by email at service@spcamerica.com.
SPC Electronic Corporation, Tokyo, Japan
Since the founding of SPC Electronics Corporation, our policy has been the continuous application of leading edge technologies in the development and manufacture of products for the world technical markets. These products, which include microwave communication systems and equipment, satellite communications equipment and high frequency induction heating equipment, have earned high praise from domestic and international users. As electronic technologies become increasingly important, SPC intends to continue making advanced contributions to the progress of the global information society.
Corporation Milestones
1946    "Shimada Physical and Chemical" was founded at Shimada City in Shizuoka Prefecture
1947    SPC Electronics Corporation was established
1952    Tokyo Works was established at Nakano in Tokyo
1960    Head Office and Tokyo Works moved to present location
1985    First overseas representative office opened in Atlanta, Georgia, USA
1988    SPC Electronics America, Inc. was founded
1996    SPC 50th Anniversary
Environmental Management System ISO14001
On March 15, 2000 SPC Electronics Corporation was certified ISO14001 at the Tokyo and Shimada sites.
SPC recognizes the preservation of the environment and harmony with nature to be essential to the existence of humankind. SPC strives to prevent environmental pollution before the fact, and works diligently to improve activities and procedures where even the smallest improvements could be made.
The Corporation has organized environments committees to promote the maintenance and improvement of the environment management system.
We at SPC America are very proud of our Corporation for this achievement and attitude.